Opportunities and challenges
The Australian grains industry is facing both significant opportunities and major challenges, but with three decades of research development and extension (RD&E) investment behind us GRDC is well positioned to play our part in what is next.
It is critical that GRDC know what grain growers need and expect from us – to understand the problems to be solved or opportunities that may be realised through RD&E investment. We have searched far and wide in developing this plan, to gather insight around the trends and drivers expected to influence the future of the grains industry.
What you told us has shaped this plan and where GRDC will focus investment over the next five years.
Significant gains continue to be delivered through ongoing investment in grains RD&E in Australia – much of this being co-ordinated by GRDC aligned to our purpose to create enduring profitability for Australian grain growers. This commitment continues to help growers tackle the challenges of today, while preparing for the future. When reflecting on the RD&E Plan 2018-23, it is easy to see the significant progress that has been made over that period.
Some highlights of impact include:
A comprehensive review of plant breeding programs has seen the deployment of advanced genomic techniques into mainstream crop breeding to deliver higher yielding, more broadly adapted varieties to growers faster.
Fusion of novel analytics with genomic analysis has assisted to identify new genetic potential and traits to support continued productivity under a changing climate.
Accelerated integration of data and analytics and machine learning has assisted to support prediction models, decision making and agronomic management.
Transformation of soils through amelioration practices has become mainstream.
Establishment of GrainInnovate, a venture capital fund investing in start-ups developing software, hardware or new business models to drive the profitability and sustainability of growers.
Our responsiveness to local seasonal issues has improved through the introduction of the National Grower Network.
The ambitious, but successful task of consolidating industry good functions through the creation of Grains Australia Limited.
However, we know that more work is critical to ensure the long-term growth, sustainability and profitability of our industry.
In response we want a plan that guides investment in an R&D pipeline aimed to create solutions that deliver impact now and into the future. A plan that seizes opportunities as they arise, while addressing the challenges we know are coming.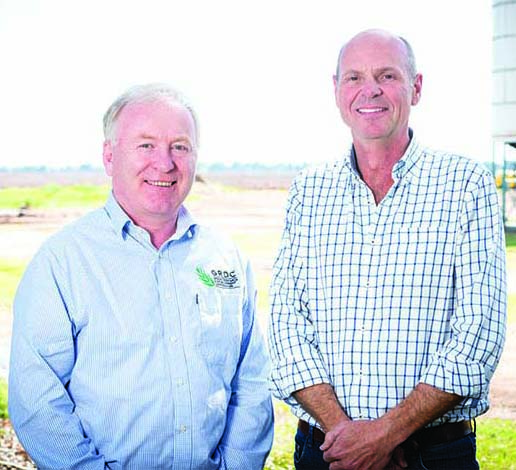 Representing approximately 1.3 per cent of the gross value of grains production* and an estimated 54 per cent of total grains RD&E investment in Australia(2), during the next five years GRDC plans to invest more than one billion dollars in impactful RD&E on behalf of Australian grain growers to future-proof our industry.
GRDC also aims to attract more than $750M in co-investment over the life of the plan, through private and public partnerships to make every dollar committed work even harder. With investment targeted to deliver genuine grower benefit, the scale of impact that can be delivered through this investment is immense.
But we cannot solve these problems alone. To move beyond the status quo, together we must be ambitious and courageous in trying new approaches, taking calculated risks to make progress or learn from our failures. Einstein famously once said 'insanity is doing the same thing over and over and expecting different results'. We must collectively think and act differently if we are to harness our existing potential, reach new frontiers, grow markets, capture or create more value and do so in a way that allows future generations to thrive.
This plan sees GRDC introduce our new vision; world-class innovation, creating solutions for Australian grain growers for a better tomorrow.
GRDC is committed to doing business in a respectful, transparent manner that builds strong relationships, drives innovation and has a positive impact on the communities we live and work in. This is why we have reflected our corporate values in this plan and have committed to development of a Reconciliation Action Plan that will help GRDC to support an inclusive Australian grains sector.
A successful plan is one that will deliver on Australian grain growers' priorities and requires input and ownership from across the grains industry.
Investing aligned to where the value lies and how we approach and solve problems differently together will make the difference and ensure our success.
This plan signals determined emphasis on positioning us for the future and will see an additional $250M invested in growth opportunities and new areas. It provides a roadmap for how we will balance the need for responsive investments to address the priorities of today, and strategic investment to ensure growers stay ahead of the game. We look forward to working in partnership with you to meet our shared level of ambition, vision and expectation for GRDC, growers and industry.
---
*Forecast GRDC 2023-28 RD&E investment, based on 7-year rolling average GVP (2015/16-2021/22).
2. ACIL Allen. (2023). International benchmarking study. Final report to GRDC. April 6, 2023. Unpublished.