Our strategy
Over the next five years, GRDC will invest more than a billion dollars in research development and extension (RD&E) to deliver significant gains for Australian grain growers.
The GRDC RD&E plan 2023-28 signals a new level of ambition and sets the challenge to move thinking beyond what is holding the industry back, to what is possible. From why things may not work, to what if they could? It will ensure RD&E investment continues to support growers to address the here and now, whilst seeking to create the step change they are after.
GRDC is ready to partner with the best in the world to deliver world-class innovation. Will you join us in meeting this challenge?
Our vision
World-class innovation, creating solutions for Australian grain growers for a better tomorrow.
Building on three decades of investment in grains RD&E, GRDC will work with partners in Australia and across the globe to turn research into solutions that are readily adopted by growers and industry to deliver enduring profitability.
GRDC's plan aspires to a future where:
Growers hit yield and profit targets, across every paddock and every season.
Productivity of crops exceeds what we thought possible.
Growers have access to a diversity of markets and get more value for the crop.
Australia's grains industry remains a global leader in sustainability, for people, the planet and our long-term ability to farm.
By working together with research partners and industry to address the trends and drivers shaping the grains industry's future, GRDC aspire to make this vision a reality.
The strategy
GRDC's RD&E Plan 2023-28 outlines areas of investment focus, building on the momentum of our previous RD&E Plan.
Like farming, investment in RD&E is a long game and while GRDC has many short-term projects that will result in immediate benefit to growers, other investments will not deliver impact for another ten to fifteen years beyond the period of this plan.
This plan clearly articulates GRDC's five-year strategy to continue to invest to realise benefit from our current RD&E pipeline whilst increasing investment in innovative, new, boundary pushing RD&E aimed to deliver growth and position growers and industry for the future.
GRDC will do this through investment in four strategic pillars:
GRDC will invest in RD&E to realise and protect what is possible today through core investment to remove inefficiencies, deliver incremental gain, manage risk and maintain grower profitability – to harness existing potential.
GRDC will continue to invest in RD&E aimed to deliver important, incremental improvements – the 'one-percenters' - that enable growers to better utilise the knowledge, information, technology and practices that we have today.
GRDC will continue to proactively invest to mitigate current and emerging threats in areas such as, biosecurity preparedness, weed, pest and disease control, resistance management, and sustainable use of resources.
GRDC is more determined than ever to position growers and the grain's industry for future growth. GRDC will do this by doubling our current level of investment into the discovery of breakthrough practices or technologies to deliver step-changes in yield and input use efficiency to enable growers to reach new frontiers. GRDC will increase investment to grow markets and capture value by two and a half times, ensuring critical RD&E that supports ongoing access to markets, adds value to the crop to increase margins, and helps to reduce post-farm gate costs.
Recognising the ongoing contribution and focus on sustainability across the entire RD&E portfolio, GRDC's commitment to sustainability will continue with a greater focus on environmental and social aspects – investing an additional 46 million dollars across the life of the plan in these areas to help future generations thrive.
GRDC will invest to harness existing potential and reach new frontiers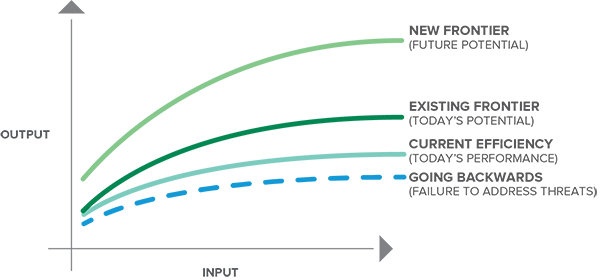 But a plan is about more than just intent, it requires us to rethink how we will effectively implement. Collectively, the grains industry must do things differently to accelerate the discovery and application of technological gains faster than our global competitors to deliver on the ambition this plan sets.
GRDC will transition its current investment portfolio, increasing investment in identified growth opportunities and new areas of focus aligned to portfolio balance principles and the ambition set out in this plan. Investment under the four strategic pillars will be aligned to 12 new focus areas (programs of work) and a portfolio of investments actively monitored throughout the life of the plan by portfolio teams within GRDC.
Investment opportunities will be continually captured and prioritised to deliver on outcomes identified using Program Logic and reported through the GRDC Annual Operating Plan and Annual Report. GRDC will continue to actively manage projects, being prepared to fail fast, stop things when they are not working, or accelerate investment when opportunities present – moving investment dollars to where they deliver more value.
Realising these opportunities will require a problem focus – as opposed to a technology push – new partnerships and collaboration across organisations, disciplines and sectors will be required. GRDC will connect globally across the public and private sectors to ensure GRDC are working with the best in the world to efficiently deliver the outcomes growers seek. GRDC will actively explore new partnerships and investment models, seeking collaboration on cross-sectoral issues and leverage where there is mutual benefit.
This plan will explore the latest science and innovation, facilitating accelerated deployment of new technologies, knowledge and approaches in Australia. It will require a willingness to push the boundaries and take calculated risks, knowing that success rates will vary in the quest for major gains.